Contract Signing Ceremony between IsDB-BISEW and CRCG-CCECC JV
Aug 07, 2022 /
IsDB-BISEW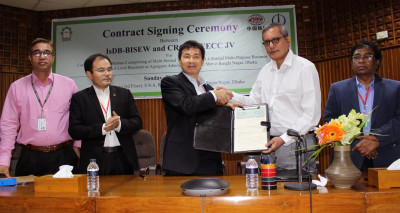 Islamic Development Bank-Bangladesh Islamic Solidarity Educational Wakf (IsDB-BISEW) signed a contract with China Railway Construction Group Co., Ltd.-China Civil Engineering Construction Corporation (CRCG-CCECC JV) for construction of IDB Bhaban-2 comprising of 15-Storied Twin Tower and 4-Storied Multi-Purpose Business Center with common 3-level Basement at Agargaon Administrative area, Dhaka on Sunday, 31 July 2022 at the office of IsDB-BISEW.
Mr. Neaz Khan, Chief Executive Officer, IsDB-BISEW and Mr. Yang Zhijun, Authorized Representative of CRCG-CCECC JV signed the contract on behalf of the respective organizations.
Officials from IsDB-BISEW, Dexterous Consultants Ltd. (Project Consultant) and CRCG-CCECC JV were Present in the Contract Signing Ceremony.